Well, what an occasion!
Fancy Pans
opened in style with fabulous, fancy food, exhilarating entertainment and a fanciful mixture of folks. When opening a fantasy cafe it has to have the best food, cooked by the best chef and guests drinking the best champagne. The best in entertainment is also expected along with larger-than-life guests who only fit together in a fantasy cafe.
Chef prepared a banquet fit for Royalty (or Hogwarts):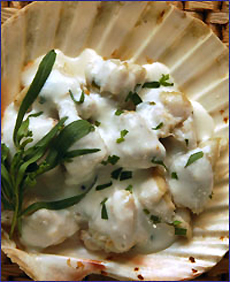 Boeuf or Mushroom Stroganoff
Bitter Chocolate and Praline Indulgence
Plus a selection of fabulous British cheeses.
If you would like to experience similar food, you will need to go to Mayfair's
Le-Gavroche
as ours was eaten in no time – with relish (that is with delight not with de-sauce).
As for drinks, well it could only be Bollinger
The champagne fountain flowed well into the night

and as
this is
Fancy Pans
, no-one was even a little tipsy.
The entertainment began, and ended with, in my opinion, THE best band in the country – any country, and I'm talking about The Bombshellettes here.
Sandwiched between these lovely lasses was our Headline 'act' – Mr Fancy Pants himself – Elvis Aaron Presley.

(No he isn't working in a chip shop.)

He sang, amongst others, and by special request, In the Ghetto (my favourite).
Time is an unreal commodity here at
Fancy Pans
– Elvis didn't look a day older than he did forty years ago – and check out those fancy pants.
Our last guests left at around four in the morning (someone called
Fitzwilliam
Darcy who must have been perspiring profusely as his shirt was clinging to his toned body, as was his friend, who I think said his name was Charles Bingley, or was it Bing Crosby?).
Well, it will take a while to wash all the champagne glasses and get the kitchen back to some semblance of normality (Chef is very particular), so on with the Marigolds and I shall let you know when (and where) we next open our doors.